Tel: 00 353 (0)21 4772582
Fax: 00 353 (0) 21 4774216
Knocknabohilly, Kinsale, Co Cork, Ireland

Work boat Range
Deltastar Range

These work/fishing boats range from 28' to 33' and are ideally suited for serious offshore fishing operations throughout Europe. The semi-displacment hulls are capable of speeds up to 25 knots. These boats are also supplied for Fishery Patrols offshore and estuary use.

The FM Work boat Range

This is a selection of 8 work boats ranging from 6' tenders to 26' work/fishing boats. Purposely built for Irish coastal waters, they have proved to be excellent sea boats in all conditions.

The Redbay Fatfisher Range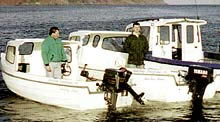 These are 4 examples of fine inshore day angling boats. Sizes range from 15' to 21' with a cuddy cabin option available on all models.

These boats are powered by outboard motors and can reach speeds of up to 20 knots using the maximum suitable engine size of 100 H. P.